If you are anything like me, you've been in situations where you are shooting video with a certain type of camera and you think to yourself, "this would be a great shot if I were using a GoPro instead." If only there were a way to mount a GoPro to the hot shoe of a camera…
Turns out, there is a very easy way. All you need is the GoPro tripod adapter and a 1/4″ hot shoe adapter. I was able to get my hands on a 1/4″ hot shoe adapter from Imorden and it works very well.
How to Mount a GoPro to another Camera Using the Hot Shoe
Once you've gotten the GoPro Tripod adapter, all you need to do is screw the hot shoe adapter to the bottom of it. You'll notice that the hot shoe adapter has two adjustable thumb screws. The upper screw locks down the GoPro Tripod adpater to the hot shoe adapter. The bottom screw is used to lock the hot shoe adapter down on the hot shoe of whatever camera you are attaching it to. Very easy and very effective. Here's a few pics of my GoPro attached to my Sony A7R:
And here are  few pics of my GoPro attached to a Panasonic video camera:
The Imorden hot shoe adapter itself is inexpensive and well made. They actually shipped me two adapters, which is nice. Everything works right out of the box, both thumb screws spin easily and attach firmly. Everything is made using a lightweight metal, so there's no fear of breaking any cheap plastic parts. Imorden are also nice enough to include a micro fiber cleaning cloth for wiping down camera lenses.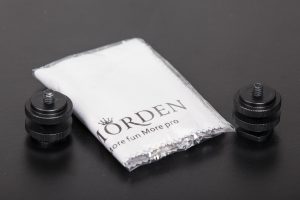 A GoPro isn't the only option when it comes to mounting a camera using the hot shoe adapter. You could stack another still camera on top of your camera, or perhaps something like the Atomos Ninja. Another cool option for Sony users is the ability to mount a smartphone holder to the top of your camera. Why would you ever do that? Well, if you are a vlogger, you could use the Sony PlayMemories App to see yourself as you record your video. The Sony camera's LCD screen doesn't articulate enough to allow you to do that ordinarily, but by sending the video signal from the camera to the PlayMemories App on your phone, then mounting the phone on top of the camera, you'd be in business. This little hot shoe adapter from Imorden would allow the smartphone holder to be mounted on top of the camera.
Lots of options, and for under $10 the adapter is definitely something I'd recommend having in your camera bag.