I've had the Sony A7R for a couple of months now, and I thought I'd share what I consider must-haves for this camera. If you decide to go the A7 route, there are a few things that you'll want to pick up in order to get the most out of this camera.
Here's the list of what I'd consider Sony A7/A7r Must-Have Add-Ons:
Sony Lens
If you bought your A7 without a lens, I'd highly recommend getting yourself some true Sony glass. I actually went six months relying on various adapters and older lenses until I finally had enough money saved up to buy a proper Sony lens. What a difference! I grabbed the Sony 16-35mm Vario-Tessar T FE F4 ZA OSS E-Mount Lens and for the most part have not removed that lens since. The camera just performs the way it was meant to when using native glass, especially in the autofocusing area. The 16-35mm is also ridiculously sharp! I was really happily surprised at just how insanely sharp this lens is. So definitely get yourself some native Sony glass as soon as possible.
Extra Batteries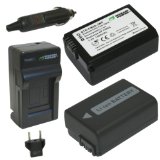 I can't stress this one enough. The A7R is a mirrorless camera, which means that in order for you to see what you are shooting, it relies on either the LCD screen on the back or the electronic viewfinder (as opposed to a mirror). And that means lots of battery juice getting used up. So the first thing I'd pick up is an extra battery (or three, or four). I bought two different types of batteries and both have served me well. I bought one of the name brand Sony batteries, mainly because I wanted at least one true Sony battery before I explored other options. The other batteries I purchased were by Wasabi Power. The cool thing about the Wasabi batteries is that the price is right, plus it's a pack of two batteries and they come with a wall charger as well as a car adapter. Considering the fact that the Sony camera doesn't come with any additional charging options besides the supplied USB cable (meaning you have to have to use the camera to charge the battery, which is a bit odd), this purchase was a no-brainer. At the time of writing this, the Wasabi Power batteries are only $26.99 (plus shipping).  I carry the wall charger and car adapter with me in my camera bag at all times now.
Here are the links to buy both:
Sony NPFW50 Rechargeable Battery Pack
Wasabi Power Battery (2-Pack) and Charger
Battery Grip

Now that you bought those extra batteries, I'd also suggest a Battery Grip. The "official" Sony grip is s a bit pricey at $298, but it doubles your battery capacity as well as providing some extra grip to the tiny A7 body. The added weight is fairly insignificant (this thing is pretty light). There's also a $79 option from a company called Meiki that I recently purchased – I'm actually loving the thing! You can read my review of this battery grip right here. The added grip makes the A7R feel more like a traditional SLR, but the camera is still very light.
Sony VGC1EM Digital Camera Battery Grip ($298) | Meiki Battery Grip ($79)
Screen Protector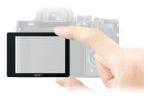 It's never fun to have a big, nasty scratch on your brand new camera's LCD screen. Sony makes a great screen protector that fits perfectly on your camera's LCD. I bought one of these and honestly, I can't even tell it's on my camera. The screen protectors are only $15, so don't even hesitate to buy one of these. Just get one.
Sony PCKLM16 Digital Camera Screen Protector Foils
The Fastest SD Card You Can Find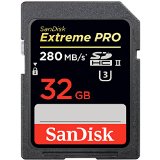 As soon as I got the A7R, I threw a random SD card in it and started firing away. Most photographers have an SD card or two hanging around, and I was no exception. I immediately noticed that once I fired a shot, the tiny, red light on the camera that indicates "hey, I'm writing a giant file, give me a minute here" was blinking away for a long time. This is especially true on the A7R, with it's massive 36 megapixel sensor. If you are using a slow SD card, you are going to get frustrated with it quickly. You'll especially notice this if you take a shot, look at the preview, then decide to immediately delete the shot. The camera will give you a preview of your shot very quickly, but you can't delete anything until the file is finished being written to the card. If you try to delete the image before the camera is done creating the file, the camera displays an error saying, "writing to memory card unable to operate." You'll continue to see this error until the camera completes writing the file. Frustrating to say the least. The solution is as fast a memory card as you can find. I'd recommend the Extreme Pro 32 GB Secure Digital High Capacity (SDHC) Memory Card. With a write speed of 280 MB/s, you can't go wrong.
Sandisc Extreme Pro 32 GB Secure Digital High Capacity (SDHC)
Those are what I'd consider the absolute must-haves. Here's a list of some additional add-ons that I've found useful:
Sony LA-EA4 Adapter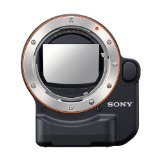 One of the major gripes about the Sony A7 line is the lack of options when it comes to full frame lenses. While Sony are slowly unveiling more and more lenses, there are still a lot of options when it comes to legacy A mount glass. The Sony LA-EA4 adapter gives you access to loads of full frame options from Sony and Minolta/Konica. In addition, this adapter provides full-time Continuous Phase Detect Autofocus, which the A7R doesn't natively have (the A7 and A7S do). I bought one of these and I've been having a blast trying out old lenses on it. My first camera was a Minolta Maxxum, which was a 35mm film camera. My brother also had the same camera, so there were several old, full frame Minolta lenses sitting around between the two of us. All of them worked using this adapter, including autofocus! Not only that, but if you do a search on Amazon or eBay for old Sony/Minolta/Konica lenses, you'll find a bunch of them. I've seen 50mm 1.8 Minolta lenses for $50! This adapter is well worth the $348 price tag if you ask me.
Sony LA-EA4 E-Mount to A-Mount Full-frame Adapter
Manfrotto MTPIXI-B PIXI Mini Tripod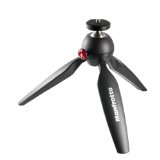 I just picked one of these up and I'm loving it. It was only $25, and it provides great stability in a tiny form factor. A tripod that fits in a small, over the shoulder camera bag? Awesome. My only complaint is that you can't shoot in portrait mode with it, but that's not really what it's designed for anyway. I was honestly shocked at how stable the camera stays when using this.
Manfrotto MTPIXI-B PIXI Mini Tripod, Black
Various Lens Adapters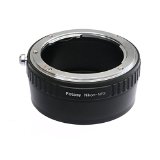 One of the advantages of using Sony's mirrorless system is the availability of numerous lens adapters. These adapters give you access to any number of lenses from various manufacturers. You probably know at least one person who has an old 35mm camera sitting in their basement collecting dust, so if you own a Sony A7, do yourself a favor and see if you can take that "junk" off of their hands. There are three words you need to remember whenever someone mentions old 35mm cameras: "full frame glass." 35mm cameras are "full frame" by their very nature ("full frame" on a digital camera simply means the sensor is the same size as 35mm film), so while those old 35mm bodies might be useless, the lenses can be a potential gold mine! Almost all of my lenses for my A7R are hand-me-downs that are attached to the camera via the use of an adapter. There are adapters available for just about any lens you can think of. Here's a link to a bunch on amazon.com.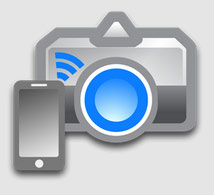 DSLR Remote (Android App)
This is basically an IR (infrared remote) that allows you to use your smartphone as a trigger for your camera. The A7 cameras have an IR receiver, so this handy (and free) app is a great way to remotely fire your camera without having to fiddle around with turning on wifi. Check out the DSLR app page for more info on supported phones and various options. This free little app can do quite a few cool things!
Those are the items I've found so far that have most benefited me as a new A7R user. I haven't had the opportunity yet to try out any native Sony lenses, but that's what I plan to purchase next. I hope this helped anyone who has just bought or plans to buy any of the Sony A7 cameras. If you have any other suggestions, feel free to leave them in the comments below.