List was updated 11/30/2020
Amazon
Amazon's Black Friday/Cyber Monday Photo/Video deals are here
Sony gear
Canon gear
Nikon gear
Deals on GoPro gear
Deals on DJI gear
Deals on Panasonic Lumix
Deals on Zeiss lenses
Skylum Software (Luminar 4 and Luminar AI)
The Black Friday sale will be available from November 25 to November 30
The Cyber Monday sale will be available from December 1 to December 2
(NOTE: The details of these offers are the same; only the timing is different.)
New customer offers:
LuminarAI:
2 seats for $84
1 seat for $69
Plus Bundle for $119
Max Bundle for $149
Paid Luminar & Aurora owners get a $20 Loyalty Discount on LuminarAI:
2 seats for $79
1 seat for $64
Checkout add-ons are 80% OFF, including:
Aurora HDR
Photographic Storytelling Video Course
Power of Nature Skies Pack
Magical Forests Looks Pack
Sky Collection Bundle
Sky Objects Bundle
I've been using Luminar 4 a lot recently, especially for sky replacements and for editing portraits. Version 4 is very impressive! Check out my review/tutorial on AI sky replacement here.
Rawsie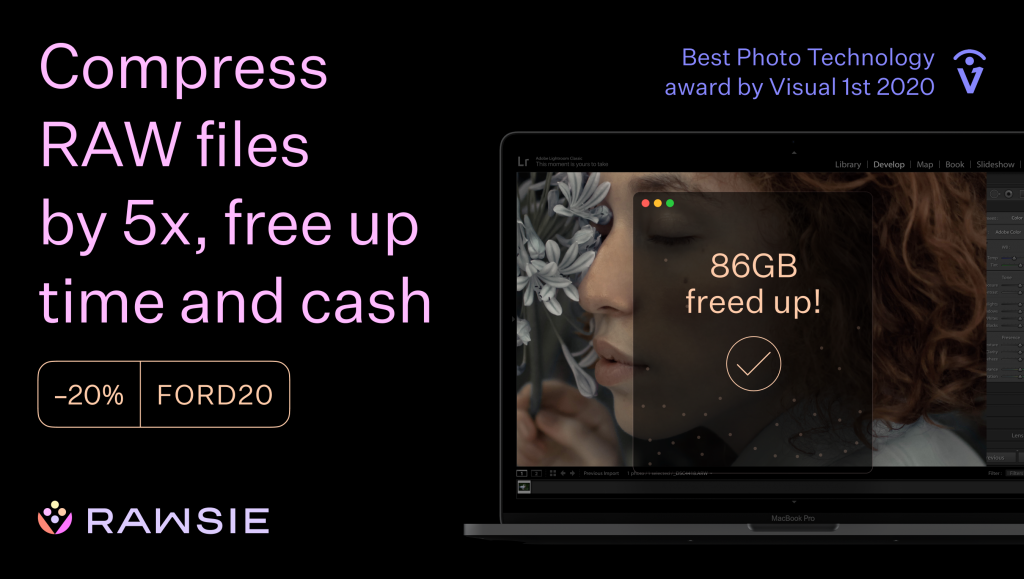 Rawsie
is an app for photographers allowing RAW image file size reduction by up to 80%, while preserving dynamic range, resolution and edits in your LR catalogs. It's a great software for any photographers who take lots of images. The files are still RAW, but their size is similar to that of JPEGs. Rawsie helps save money on hard drives and cloud photo storage, the workflow speed is also faster this way. It also means there are 5 times more current projects locally on the desktop while editing them.
Code: FORD20
Dates: November 15 — December 15
OnOne
OnOne are offering Photo RAW 2021 for 79.99 and the OnOne Professional Plugin Bundle for $59.99 –  both are usually $99.99 each.
Adobe
Avid
One-year subscriptions to Pro Tools, Media Composer, and Sibelius* are 20% off all week. Use code CW2020 Ends Dec. 6th.
Lume Cube
Lume Cube are (still) offering several Black Friday deals
Snapfish
Snapfish have some great Cyber Monday deals going on
Best Buy
Best Buy are offering several Cyber Monday deals
Canon
Canon's Cyber Monday deals can be found here
Imagely
Imagely (NextGen Gallery) are offering 40% off ALL the themes and plugins on their site using the coupon code BF40
B&H Photo
Adorama
Adorama's Cyber Monday deals are here
GoPro
Hero9 Black bundle – $349.98 – includes a 1-year subscription to GoPro. The price raises to $449.99 without subscription. Includes: HERO9 Black, Floating Hand Grip, Magnetic Swivel Clip, Spare Battery, 32GB SD Card, Camera Case.
Hero9 (without bundle) – $349.98 – Includes 1-year subscription to GoPro. The price raises to $399.99 without subscription. 32GB SD card included. I have no idea why this and the bundle shown above are the same price other than the price being lower without the subscription.
MAX – $399.98. includes 1-year subscription to GoPro. The price raises to $499.99 without subscription. 64GB SD card included.
HERO8 Black – $299.98 includes 1-year subscription to GoPro. The price raises to $349.99 without subscription.
Corel
Corel's Cyber Monday deals can be found here
BorisFX
BorisFX are offering up to 50% off. BorisFX are photo and video plugins (photographers, check out the "Optics" product – I had to buy it, it's just too cool) – sale is extended until Dec. 4th
Spider Holster
Cyber Week Special – FREE $20 GIFT ON ORDERS OF $55+ PROMO CODE = MONKEY
HP
HP have various "doorbusters" going on all day
KelbyOne (Training)
KelbyOne are offering $50 off of their yearly memberships ($150 instead of $200)
Photoshop Cafe (Training)
Photoshop Cafe have a number of deals available on their various courses
If you find anything else, let me know!
Disclaimer: I'm a participant in the Amazon Services LLC Associates Program, an affiliate advertising program designed to provide a means for sites to earn advertising fees by advertising and linking to amazon.com. Some links provided may generate a small amount of revenue for my website, though your price is not affected in any way.