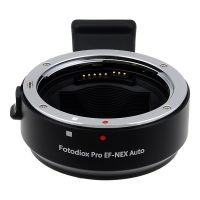 I recently purchased a Sony A7R, so naturally one of the first things I did was buy a couple of adapters so I could use a variety of lenses. I was excited to be able to use some Canon glass on a much smaller bodied camera. I was all set to plop down $400 for the Metabones IV adapter, but fortunately Fotodiox just released their own, much cheaper alternative – the Fotodiox Pro EF-NEX Auto adapter (the auto is for "autofocus", as several other Fotodiox lens adapters are for manual focus only).
This is a great alternative to the popular (and much more expensive) Metabones adapter. It works exactly as advertised. My Canon 24 – 70mm full frame lens now works on my Sony A7R. As mentioned several times by others using this as well as other similar adapters, autofocus is slow but it does work. Auto focusing works almost identically to focusing in live view while shooting in movie mode on the Canon 5D Mark II (if you are familiar with how that works). It does a lot of slow searching until it locks into focus. Manual focusing with focus peaking is usually faster. I should also add (in case you were wondering) that this adapter does cover the entire full frame sensor on the A7 cameras. There are no issues with the camera being forced into an APS-C cropped mode.
I only have a few complaints about this adapter. The first complaint is that continuous auto focus doesn't work while in movie mode on the A7R. Obviously focusing with these adapters is tricky anyway, so that's probably why. But if you use an E-Mount lens on the A7R, you can have continuous auto focus turned on in movie mode and it works like a champ. Also with the Sony LA-EA4 adapter (and a 20 year old Minolta A-Mount lens!) continuous auto focus works just fine while shooting video. Just something to be aware of if you plan to get this adapter for video shooting. Another issue is that when in movie mode, when you lower your f stop, for some reason the aperture of the lens opens all the way for a split second. This can result in there being a super obnoxious flash of light in your footage. I don't know why this happens, but it's not isolated to any particular lens – every lens I've tried does it. This only happens when you lower your f stops. Raising the f stops is fine. The final issue I have is that the adapter doesn't ship with any lens caps. I know there's no glass to protect, but there are still components in there that I'd rather see protected than not. All in all though, I'm really happy with this adapter. It only cost me a little over $100 (vs. $600 for the Metabones IV). I'd say if you have the money to spend on the Metabones IV adapter for the Sony A7 line, go with this one instead. Then also grab the Sony LA-EA4 adapter. That combo gets you access to a ton of Minolta/Sony A-Mount lenses as well as Canon's line of lenses. That's a pretty killer combo.
Want one of these adapters? Grab it from Amazon for $109.95.
UPDATE – I noticed that this product is constantly out of stock on Amazon. There are two similarly priced items by Commlite and CameraPlus with the same functionality as the Fotodiox adapter. I haven't tried either of these adapters out, but they appear to be a good alternative based on the reviews.
Here's the link to the Commlite adapter – Newest Version Electronic Auto Focus EF-NEX EF-EMOUNT FX Lens Mount Adapter for Canon EF EF-S Lens to Sony E Mount NEX 3/3N/5N/5R/7/A7 A7R Full Frame Frame
Here's the CameraPlus adapter – CameraPlus – AT-EF-NEX II Auto Focus Canon EF Lens to Sony NEX Adapter for Full-frame A7/A7R/A7S Cameras with E-mount Built-in Hand-shaking Function – Same as Metabones Mark III MB-EF-E-BM3
Here's the link to the Sony LA-EA4 adapter that I mentioned as well.
I also put together a quick video showing how the autofocus behaves on the A7R when using the Fotodiox adapter. Check it out: