Now that the weather is finally warm enough, I've been doing some hiking in Ohiopyle, PA and specifically visiting Cucumber Falls. After hiking with a Canon 5D Mark II and the heavy 24-70mm lens in the past, I've been trying to "slim down" my gear by switching over to the Sony A7R. I also never really used to bother hiking with a tripod as I found them too cumbersome and generally annoying to lug around. However, that changed while visiting Oregon in 2014. I was about to go shoot photos of Multnomah Falls and realized that I really should have a tripod for something like that (you can read more about that trip here). After finding and browsing a camera shop in Portland, I ran across the Manfrotto PIXI Mini Tripod. The guy behind the counter said, "oh, we just got those in and everyone loves them!" I know Manfrotto makes quality photo equipment, and the tripod was only $25. What did I have to lose? I went ahead and picked one up. I bring that little guy with me everywhere now. I love it! The only downside is that it only allows you to shoot in landscape mode (no portrait) but I've found work-arounds for that problem anyway.
Why do I love the Manfrotto PIXI Mini Tripod?
The best thing about this tripod is the size. It only weighs half a pound and I can literally fit it in my pocket. It also has a nice, sturdy feel to it, and the amount of weight it can handle is crazy! This little tripod combined with the Sony A7R has made hiking with photo gear a lot more enjoyable.
Here's a picture of the tripod set up with the A7R for some long exposure shots of Cucumber Falls: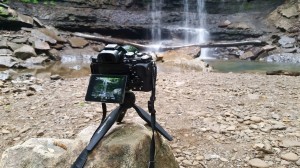 It's also easy to use (there's really not much to it). Just attach it to your camera, open the legs and use the little button on the ball head to make adjustments. That's it.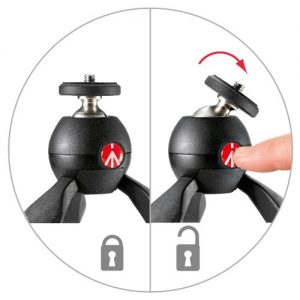 I've also gotten it dirty, wet, and generally beaten it up and it just keeps going strong. The shot below was taken with the tripod half submerged in water: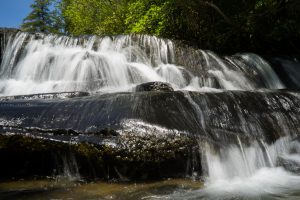 Also useful is the fact that when the legs are folded in the tripod works as a small monopod, which is great for shooting video!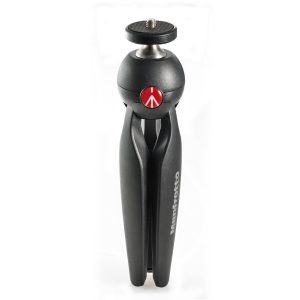 Here's the photo of Cucumber Falls that I shot using the setup shown earlier in this post. I was happy with that!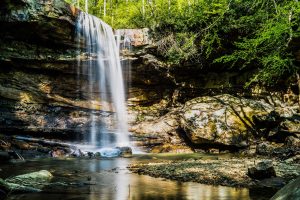 As far as I'm concerned, the Manfrotto PIXI mini tripod is one of those "must-have" items, especially if you are looking to lighten your load when traveling or hiking. And it's only $25! What are you waiting for? Get one now!